Are you looking to set up Facebook & Instagram Ads for your Medical Aesthetic Practice but don't know where to start? Don't worry, we've got you covered! In this guide, we'll walk you through the steps of setting up your Facebook Ads and give you a downloadable guide that will make the process easier. Keep reading to learn more! Let's start at the beginning…the objective of your campaign.
Set The Objective (The Purpose of the Campaign)
We need to be crystal clear on the purpose of the advertising campaign that you are creating. What is the intent of the ad? What do we want the ad to do? Do we want leads, drive traffic to our website, generate sales, build audiences, and create engagement?
You need to choose the objective that meets your end goal.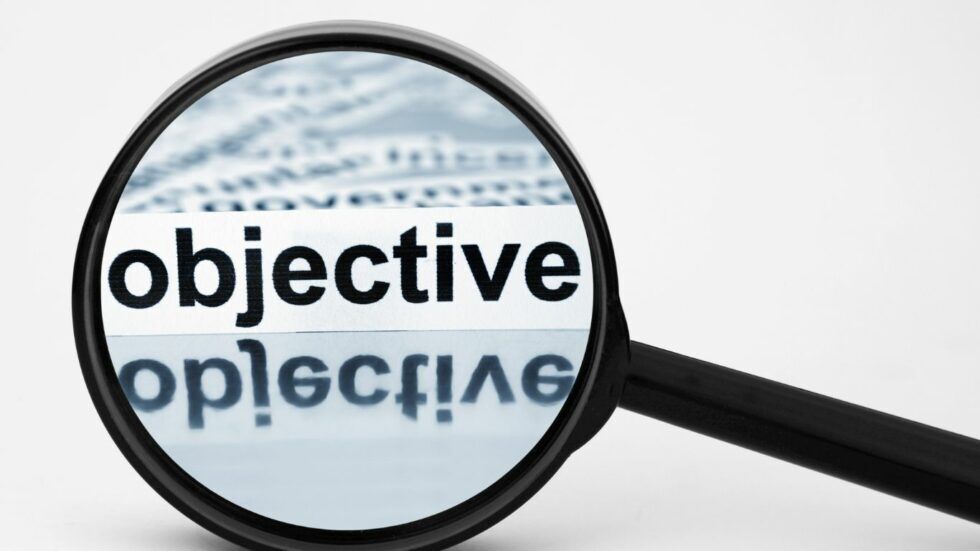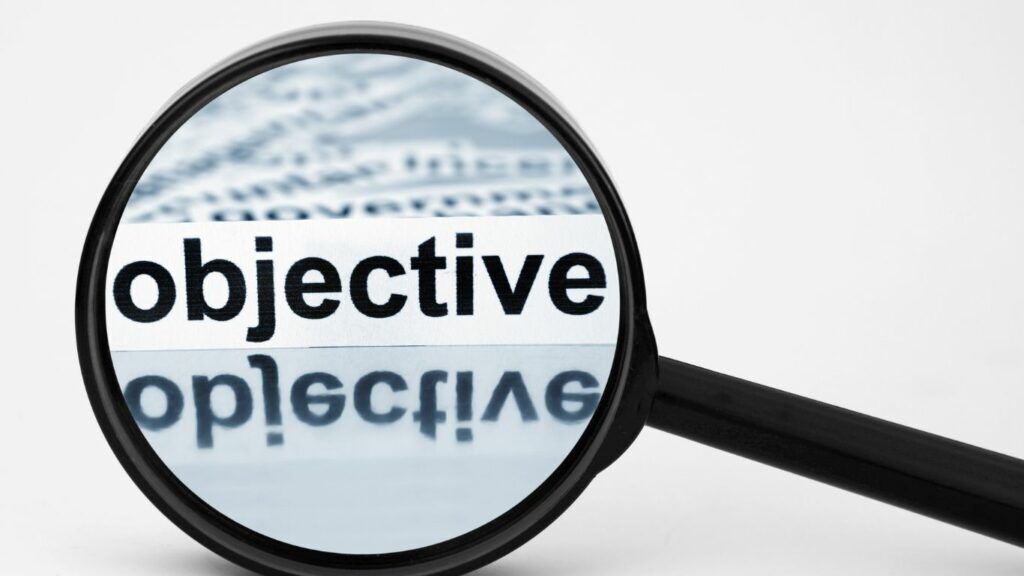 Do not create an engagement campaign if you want people to book a treatment, or consultation, purchase skin care products, or take advantage of a promotion. Choosing the wrong objective will lead to little or no results from your advertising campaign for your practice/business.
For example: How to Promote Your New Hydrafacial Service.
You have purchased new equipment for your Med Spa or aesthetic practice, you have a new Hydrafacial machine and now you need to promote this service so you can start generating your return on your investment, keep your team busy, and book more treatments.
We will drive traffic to our promotional page and ask people to claim their offer by submitting their name, phone, and email. Once they provide this information they will be sent to a confirmation page.
We are looking for leads for our new Hydrafacial service!
We have 3 options to create our campaign with the following objectives…
Lead generation objective

Conversion* objective for leads

Traffic objective
Selecting either option 1 or 2 objectives will help Facebook go and find you the right people who are likely to opt in and become a lead for your practice.
If you selected engagement on this ad type it will have great vanity metrics in terms of likes, shares, and comments but very poor results in terms of the number of people who opted into the campaign and becomes a prospect.
*Note: If your pixel is new/a few months old it may be better to go with option 1 and select the leads objective until your pixel has learned the type of people who opt-in and become a lead or if you want to collect leads on your website (option 1 does not include select traffic as your objective. A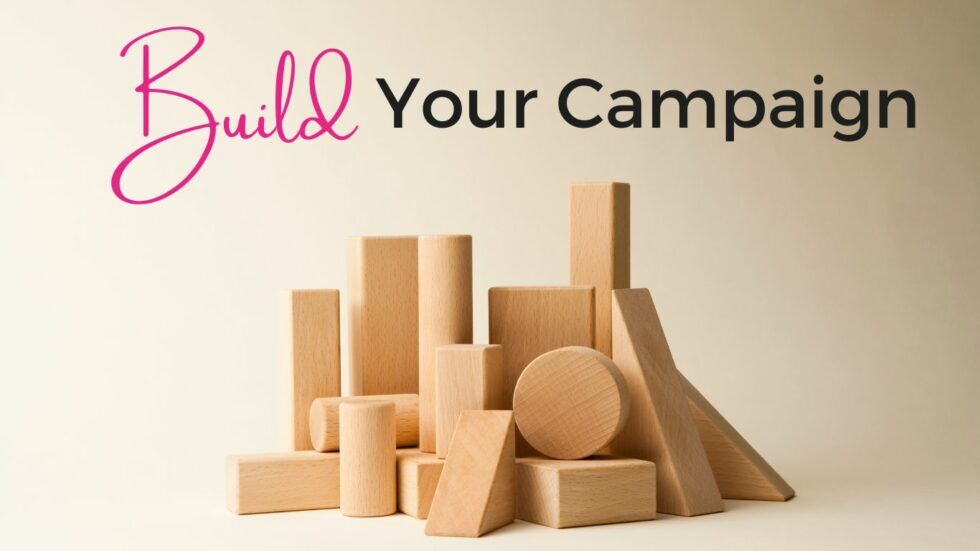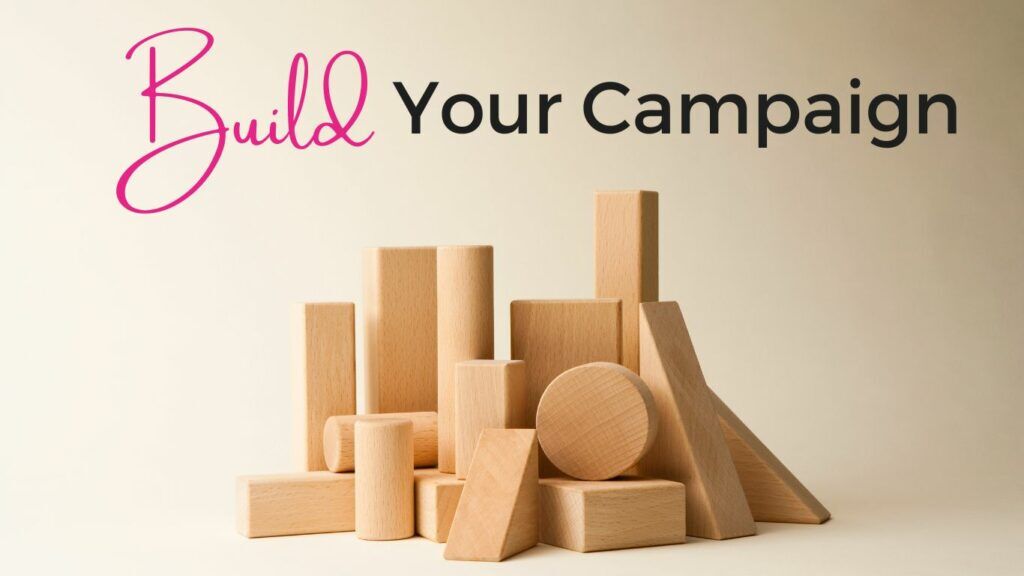 Let's Start Building our Campaign
Build the Ad Set for our Traffic Campaign
General housekeeping set up for our traffic campaign.
Set Your Ad Set Name – who are you targeting?

Select Your Traffic Destination – website in this example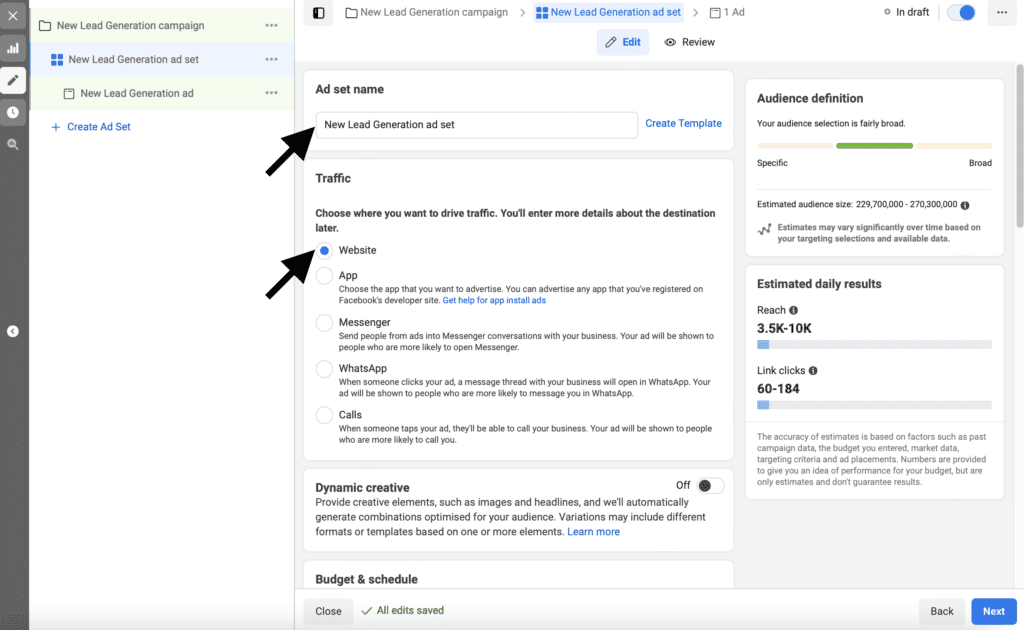 Set Your Budget – What Budget Will I Need?
If you are new to creating Facebook ads for your practice.
This is your first time creating an advertising campaign and you don't know your general cost per result, i.e the cost per lead, landing page view, conversion, etc you will need to take a couple of different benchmarks into account.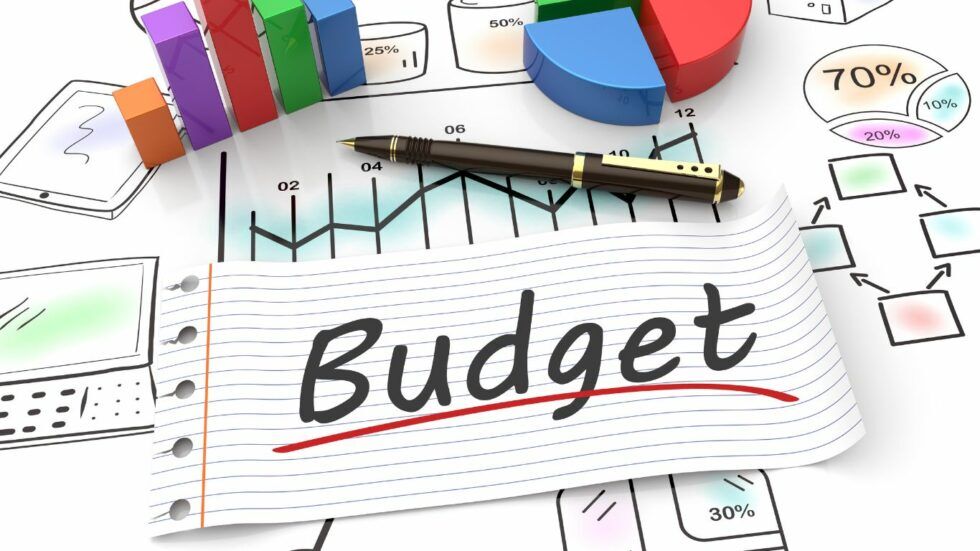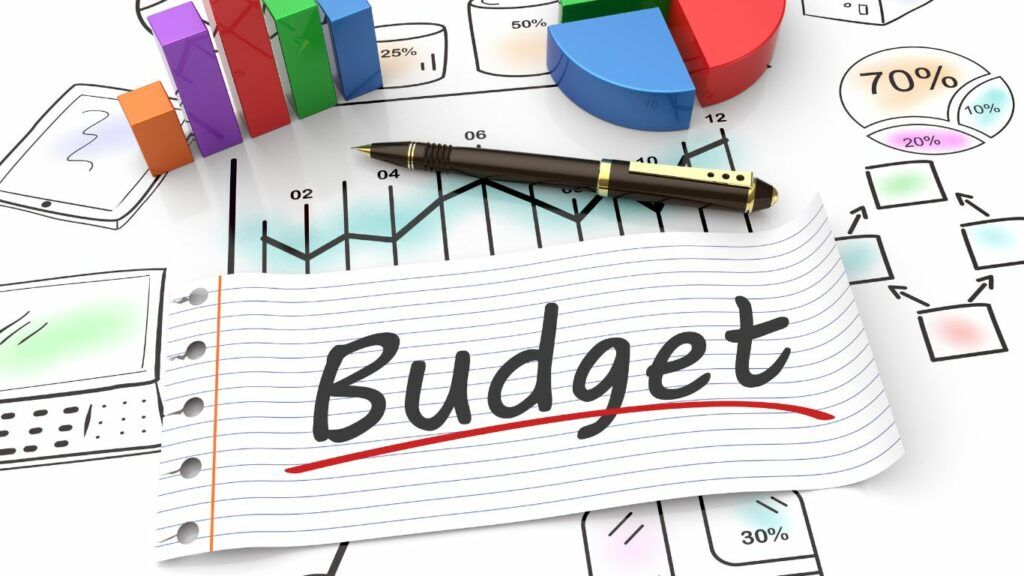 How much does it cost to generate a lead for Hydrafacials?
The cost per lead for Hydrafacial clients can range from $5 to $40. However, if we take into account just how valuable these clients are (as they have been proven to generate high lifetime values), then our investment isn't so bad after all!
Not converting these leads into clients, however, that's another story and one a lot of med spa clinics face. This may be the most important step in growing your practice. You need to make sure that you are converting leads into clients and not just acquiring new ones, which is less expensive than it sounds (and way more profitable).
Nurture the clients you do have and stop always looking for new ones is a lot cheaper and a lot more profitable in the long run. But hey, that's an entirely different article, back to the budget.
A safe place to start is around $25 a day if you have no experience in creating and setting up your ads as you do not want to spend $50-100 a day and then realize that you have targeted people who live in another town. Take your time and do not expect results overnight. You need to spend to learn and once your campaign learns and starts to optimize you will see a consistent stream of leads flow.
This is not your first rodeo and you want predictable results.
The goal of your campaign is to fill up your Hydrafacial membership. So how many leads will you need to generate to meet your needs?
First, let's look back at your previous campaigns and find the average cost per lead.
In this example, we will say it costs $15 per lead and you close 10% of the leads into members. This means for every 10 leads you get, 1 will become your customer.
The monthly membership average cost is $119 and the minimum sale is $714. This is the minimum return on your ad spend.
Lead Costs: $150
Sale: $714
Return on Ad Spend: 4.76X
Lifetime Value of Customer: Upsells of skincare, complimentary services botox, filler, laser, etc
Actual Return on Ad Spend: This will vary depending on your clinic but you can see that the real return on investment is seen here. You can see in our simple example that there is room to pay a higher cost per lead.
We are looking at the minimum return and most will purchase skin care products and complimentary treatments bringing the value of that customer into the $1000s. So remember, look at the bigger picture and make calculated informed decisions based on data about how much you can spend to get a predictable stream of clients. You need to know your numbers! View Industry Benchmarks Here If the cost of your leads are $40, you will need to have a daily budget of $50 to ensure that you hit your goal as some days Facebook will spend more money, some days less. This is the average cost per lead. Some leads will cost $15 and some $45.
Other budget considerations…
You want to get some social proof on your posts, using as little as $2 a day will allow you to boost engagement on your posts so you have more social proof if someone checks out your profile.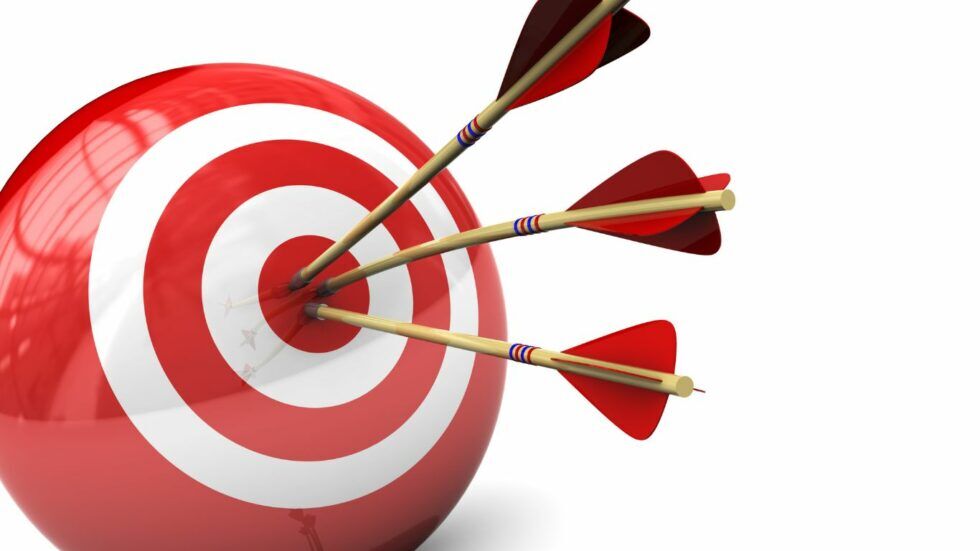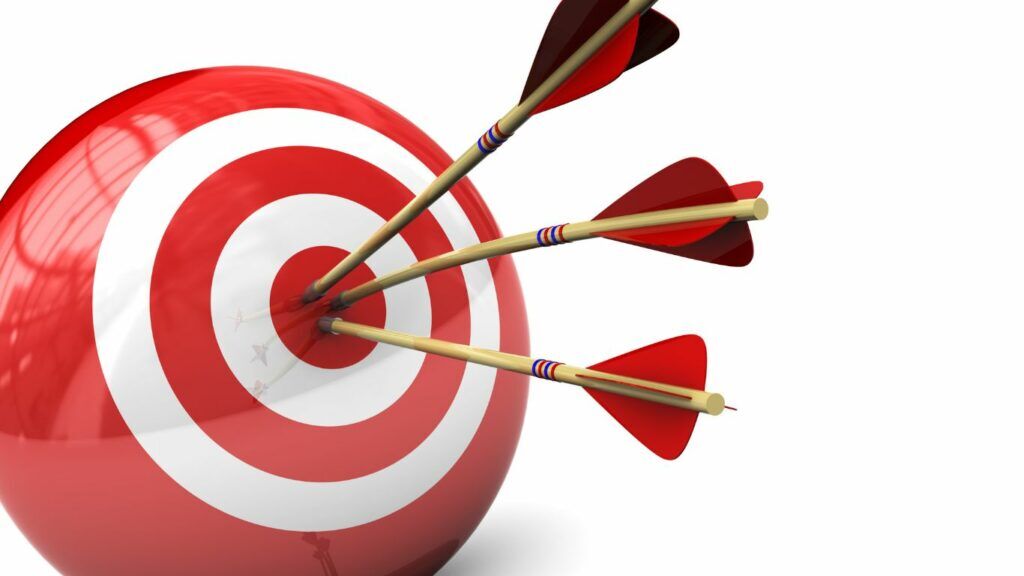 Who Are You Targeting?
Prospective clients, who have no idea who you are, people who follow you on social, people who engage with your content, who are on your email list, and or current clients? If you are a med spa or skin care clinic, the good news is you are a local business and the location of your targeting is pretty much done for you. You can target by postcodes, cities, or radius.
If you are running ads to a cold audience (people who have never heard of you) or a warm audience (people who know who you/your brand is but may not be a client) consider running 2 ad sets inside your campaign as both will perform differently. Hint hint…your warm audience 90% of the time will have better and cheaper results.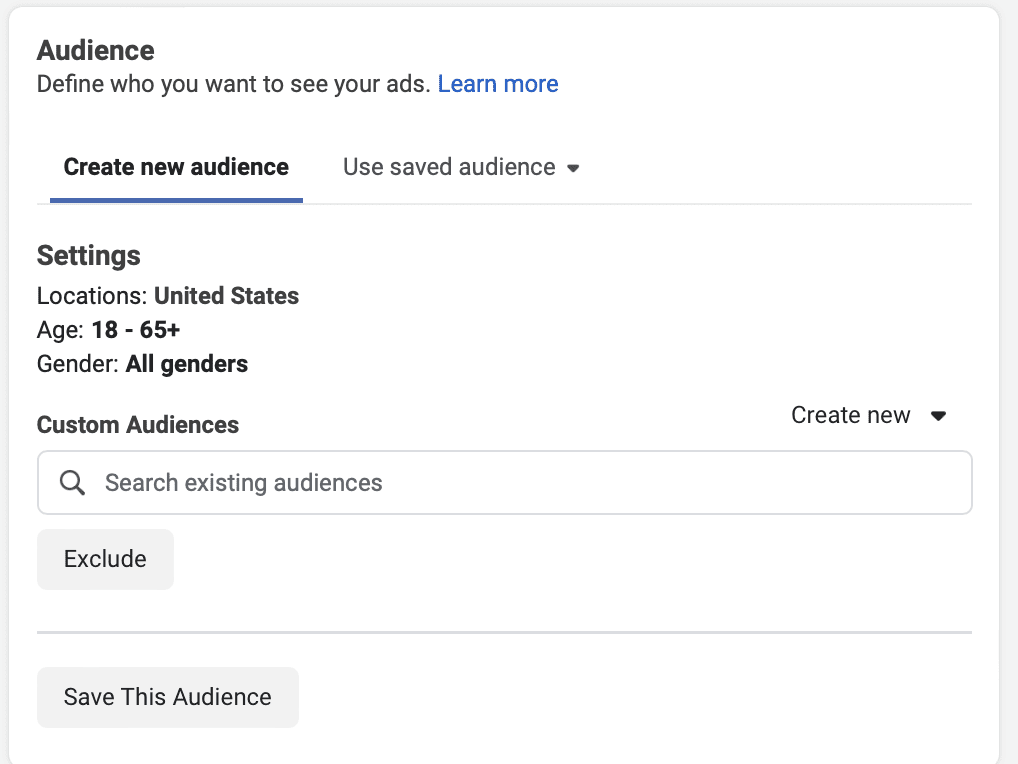 Targeting Checklist & Considerations
Cold Ad Set: lookalike audiences, interest-based

Warm Ad Set: video viewers, Instagram engagers, Facebook engagers, email list, website visitors

Locations: Postcodes, Cities, Radius, DMA

Interests to Target

Interest Expansion On/Off
Placement of Ads
Where would you like to show your ads? Facebook, Instagram, Messenger, Stories only, feed only, audience network?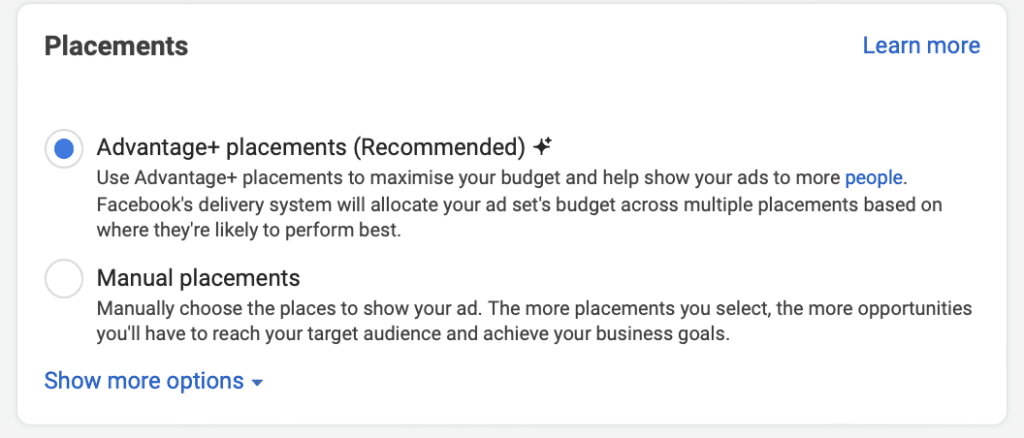 Advantage+ Placements
Facebook will automatically choose the option of Advantage+ placements for you. When testing ads for the first time it's a good option to leave advantage placements toggled on if you review the results on a placement level and can see which placements are generating results. Once you know what placements work you can optimize your campaign.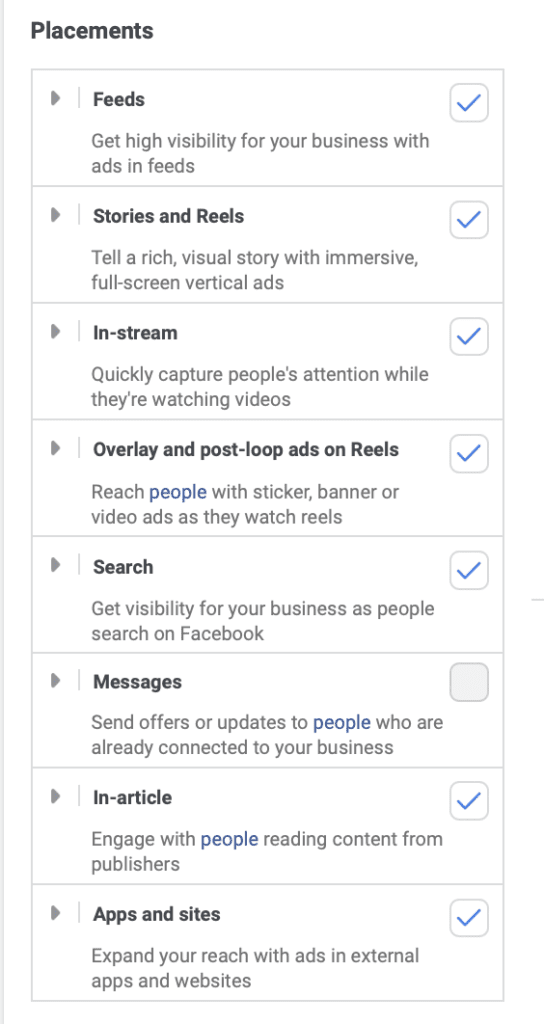 Manual Placements
You will need to choose placements based on your objective and where you would like to show your results. For example, the 'Feeds' Option is a good option if you want to promote an existing feed post or you just want to promote your offer in the main Facebook & Instagram feeds.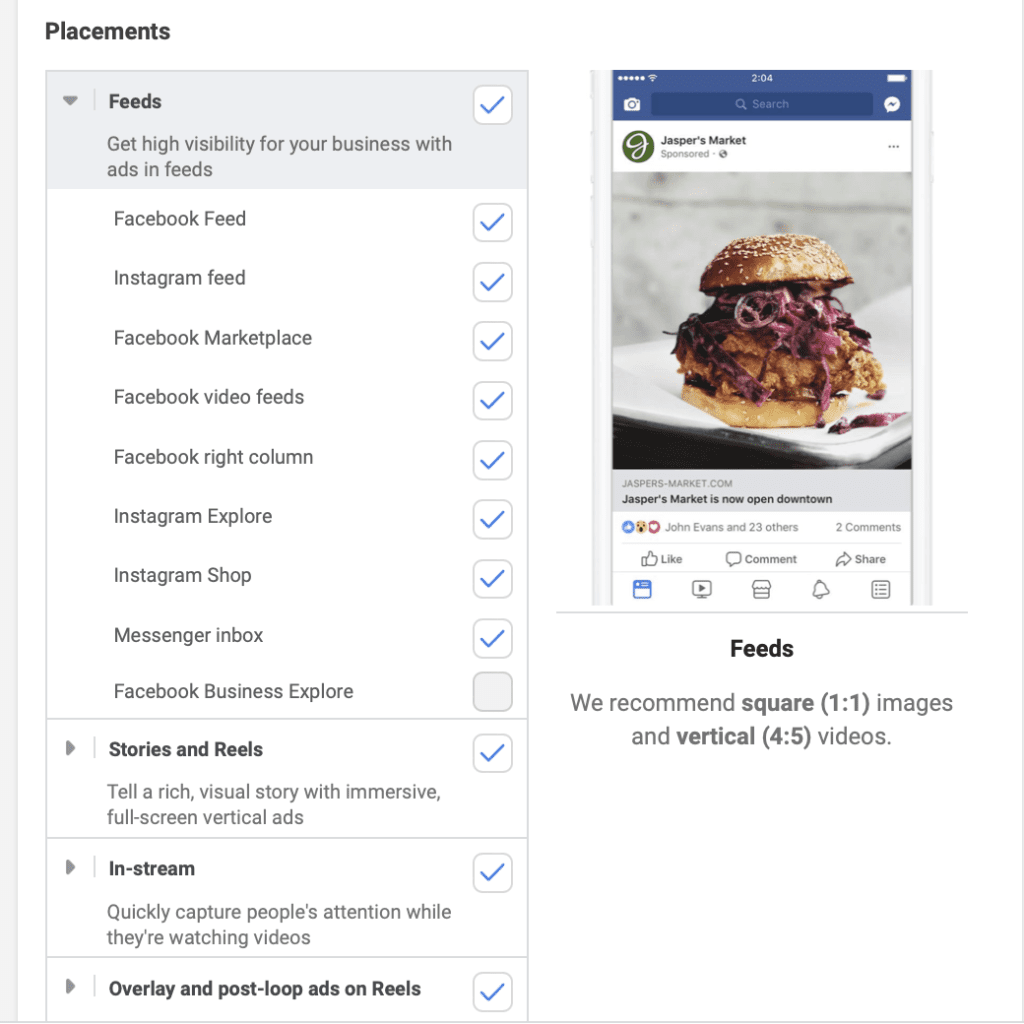 Explanation of Each Placement Section
Feeds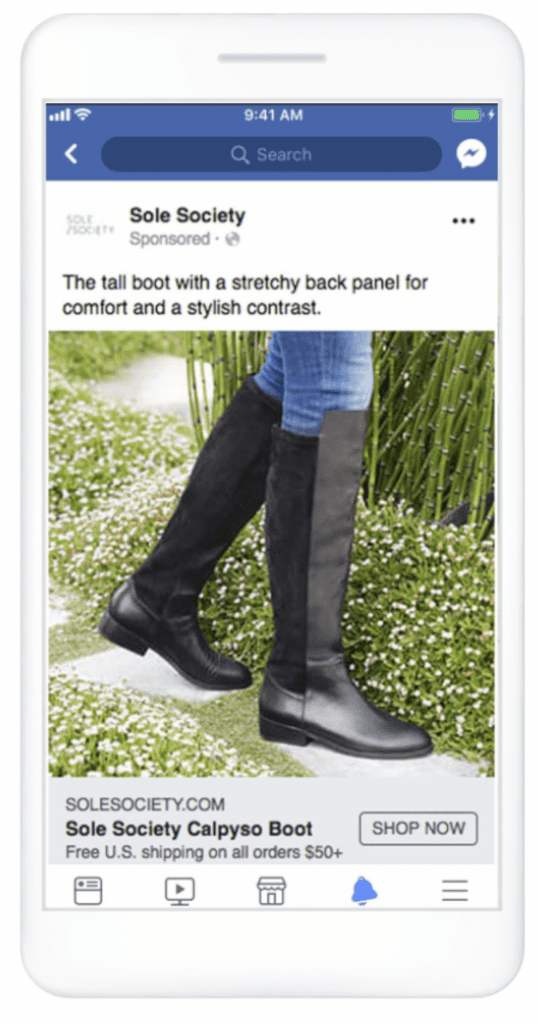 Just as the name suggests your ads will appear in the main feeds on Facebook (Main Feed, Marketplace, Messenger, Video, Desktop ) and Instagram (Main Feed, Explore & Shop). Ideal for taking an existing square, horizontal, or portrait post from the feed and turning it into an ad.
Stories & Reels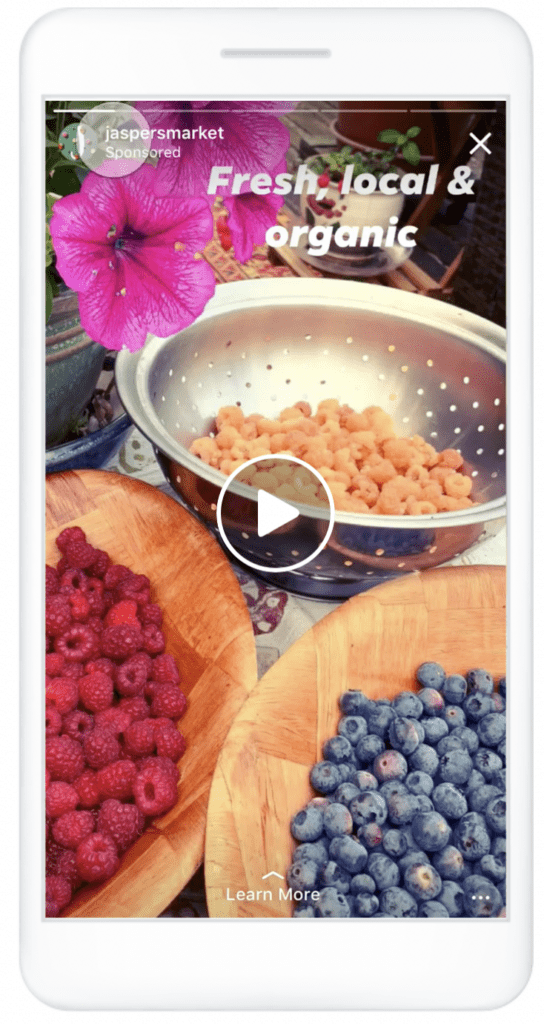 Appear in story ads and reel ads across both Facebook & Instagram. They are placed in between organic content. For success here, you will need to have your media content in the style of native posts. Story & Reel posts should be vertical and the dimensions are 1080px by 1920px. However, you can still advertise in these sections without optimized content i.e. Facebook will take your media and adjust it for stories. Not creating media correctly sized for native placement will result in lower performance as it doesn't blend in naturally with these placements.
In-Stream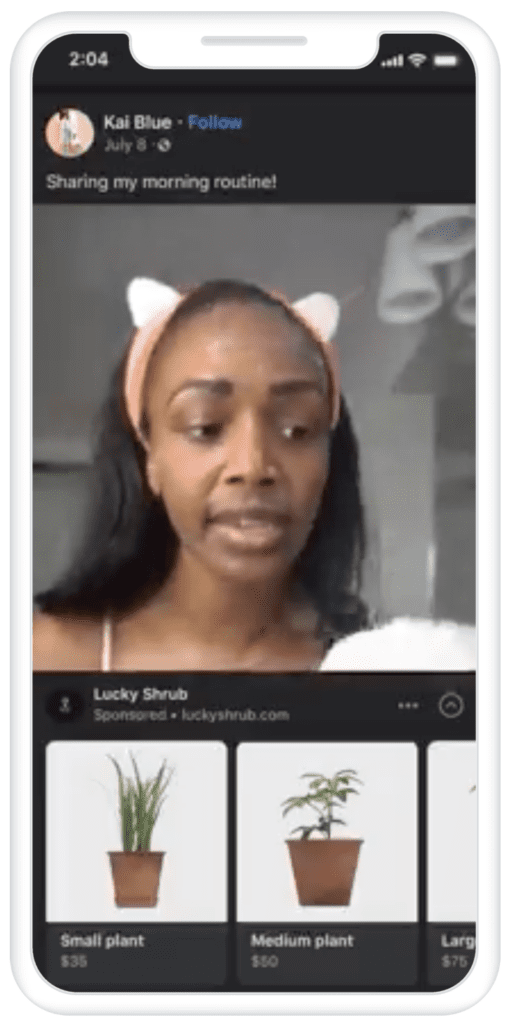 Your content will appear as ads in other people's video content. Have you ever watched a video on Facebook and boom a quick 15-second break appears, this is exactly where your content will be shown. This is where you need to put yourself in the user's shoes, they are just waiting for the ad to be over so create something that is attention-grabbing and no full of text that they cannot read it.
Overlay & Post-Loop Ads on Reels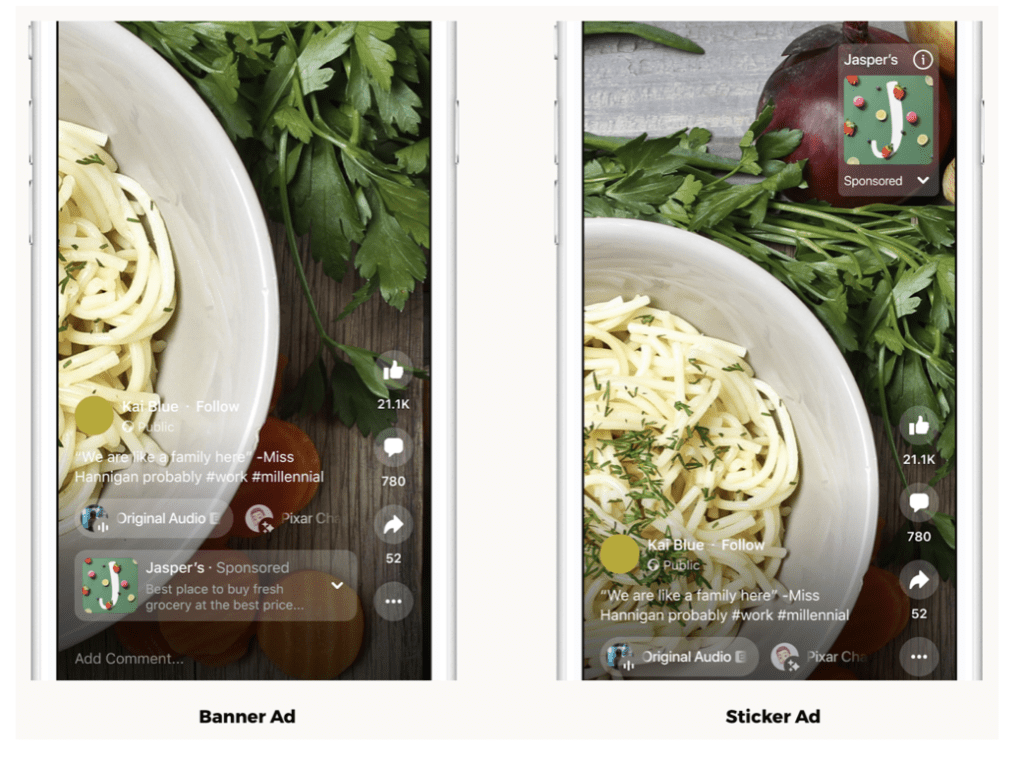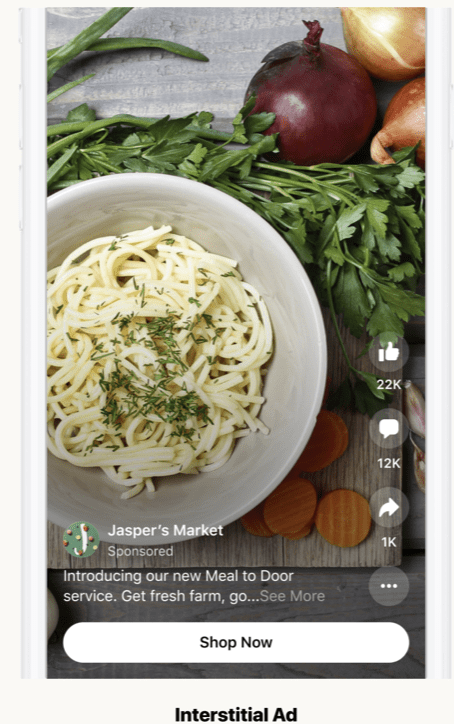 Appear in content creators' reels as a banner ad or sticker post. You have the option to exclude certain content where you don't want your ads to appear. A full-screen ad will appear in between the user's scroll from one reel to the next. People will be able to comment, like, and save your ad.
Search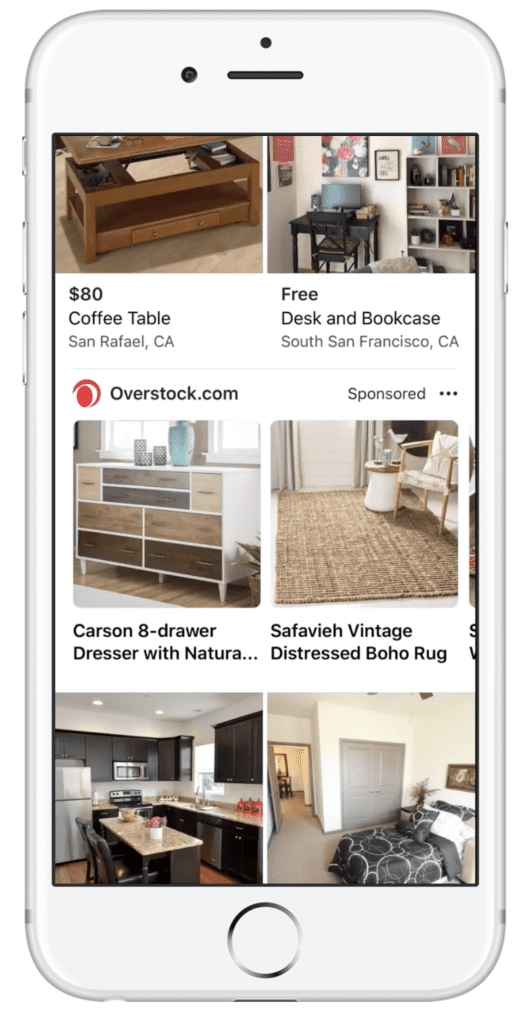 Users use Facebook as a search engine to find the content and answers to their questions. Your content will be shown in the results.
Messages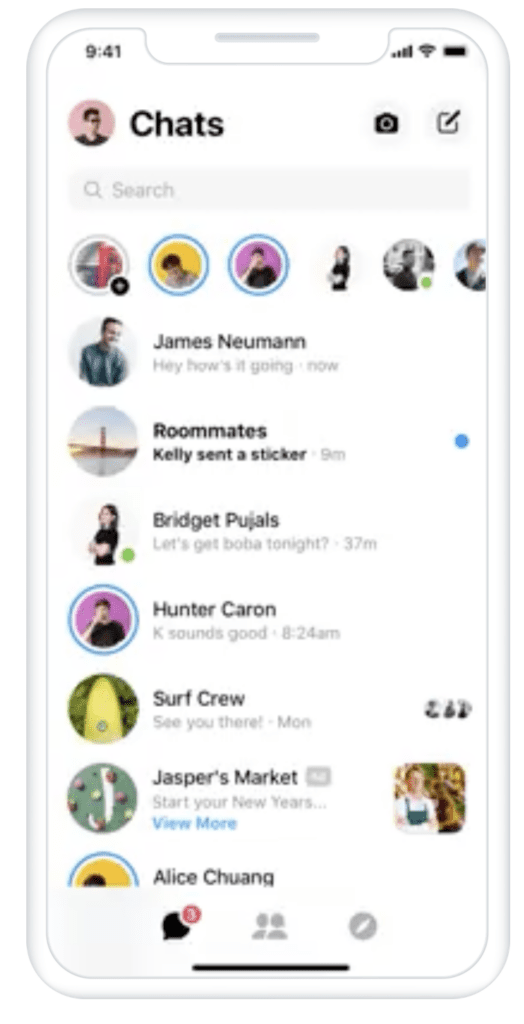 Send sponsored messages to people who have previously messaged your business in the last 365 days. These ads are powerful and convert better than anything I have personally ever used. You are reaching your audience with the desired messaging right into their inbox. Open rates are 80% for these campaigns. I love to use Manychat for sponsored messages.
In-Article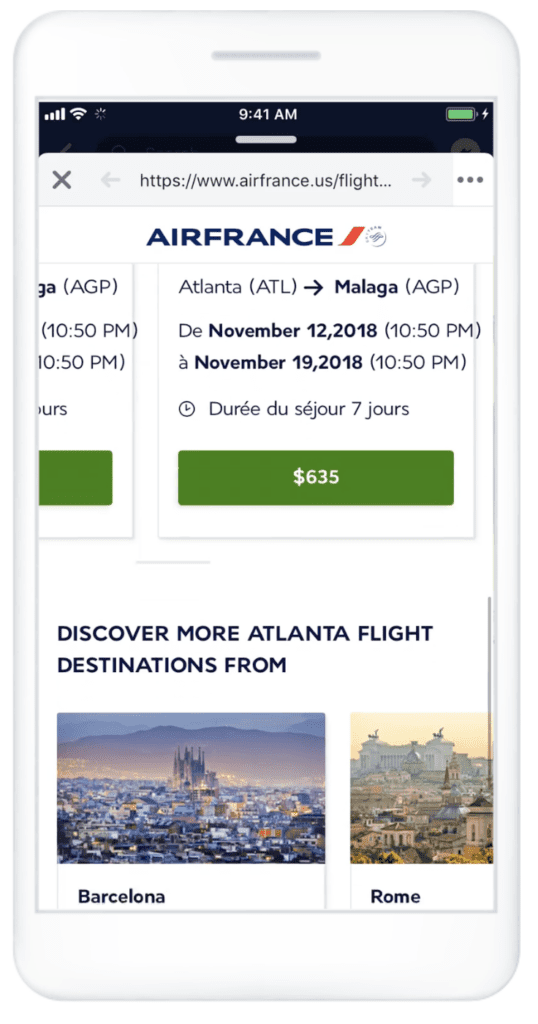 Appear in mobile ads when people are viewing creators' instant articles. It's not an overly high-converting placement but it is good for awareness.
Apps & Sites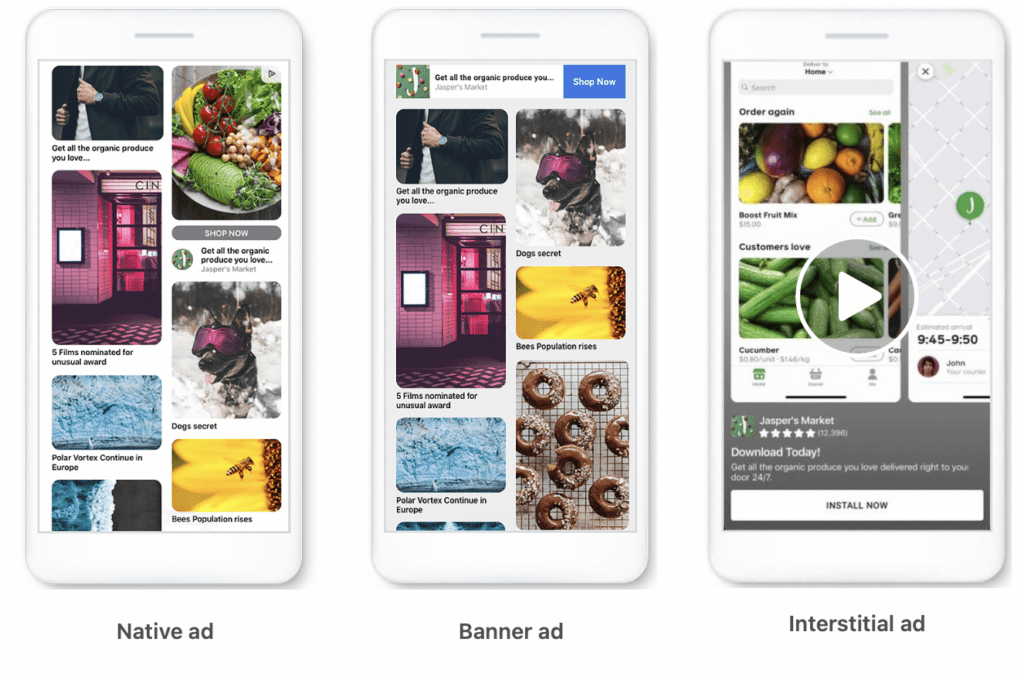 Great for retargeting and being visible everywhere. When people say they see your ads everywhere this is why. Facebook has agreements with apps and other websites to show your content.
Review Content Placements
Be sure to edit this section if you are trying to target specific devices, or want to appear on certain media types and exclusions for your content.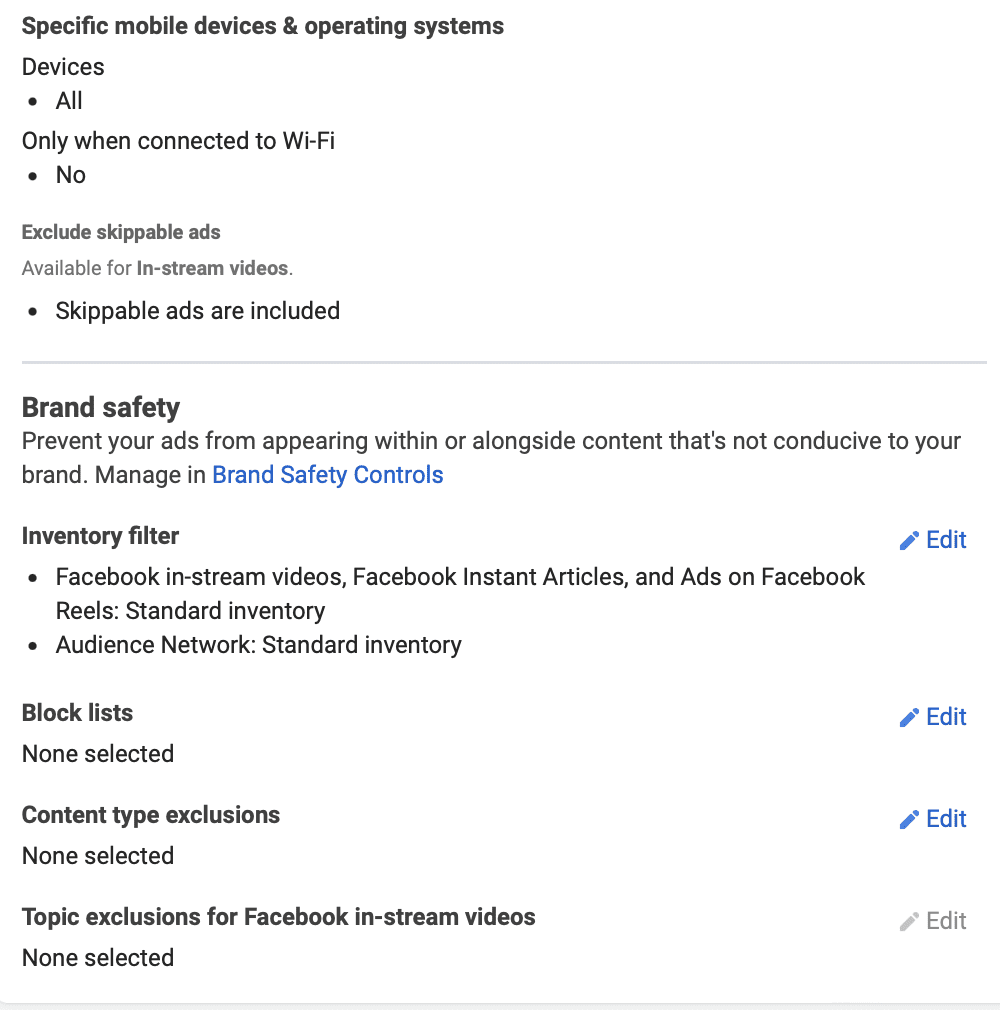 Optimization & Delivery
Always, always, always change this setting that is what you are looking for result-wise.
Landing Page Views: This will reach people who will view the page/content that you are sending people to. You will get charged for each person who views your content. It is the most expensive option but it will be the one that gets the results.
Link Clicks: Target people who will click on your link. This will include people who will click on your link and NOT see your content. This is a level below landing page views and is generally cheaper but the measure here is the click and not the number of people who view your content.
Impressions: A cheaper option that will show your ad as many times as possible. It's not going to give you the desired result if you want people to visit your content as the ad is not optimized for that.
Daily Unique Reach: As the name suggests, your ad will be shown to as many individuals as possible. The guidance in this setting is to show your ad to as many unique individuals as possible.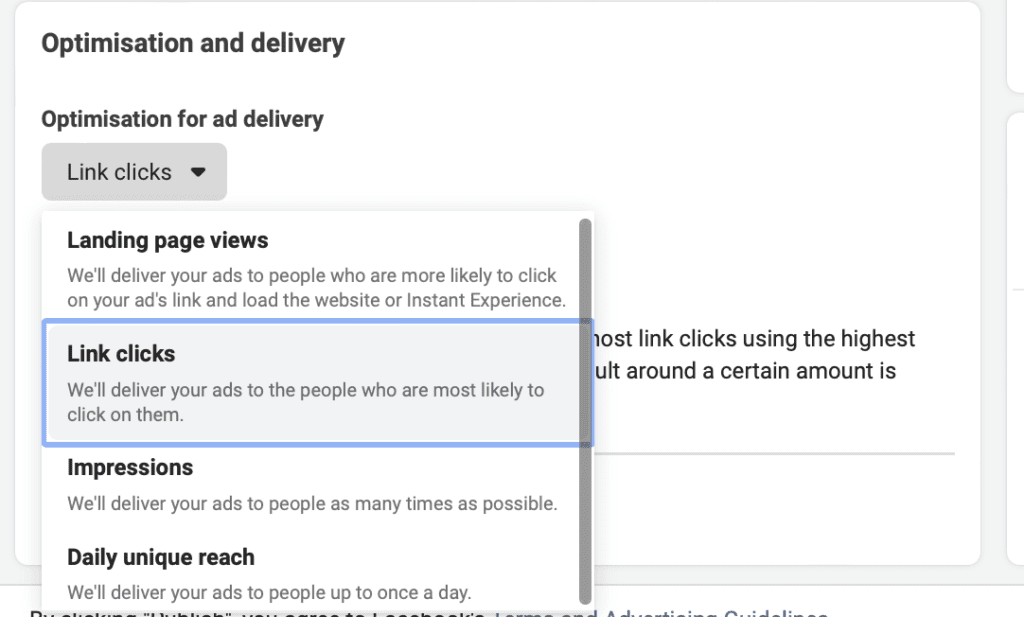 Creating Ads
The final step in the process, creating your ads that will appear online. You will need to select your Facebook & Instagram accounts from the 'Identity' section. If you do not have an Instagram account you can still advertise on Instagram.
Next, let's create your ad. You have 3 options here:
Use an Existing Post: If you have a well-performing post on either Facebook or Instagram you can use this as your ad.

Create a New Post: You can create a post that will publish on your Facebook page and it will be used as the ad and will stay on your page.

Create an Ad: Put together an ad that will only appear as an ad and not on any of your channels.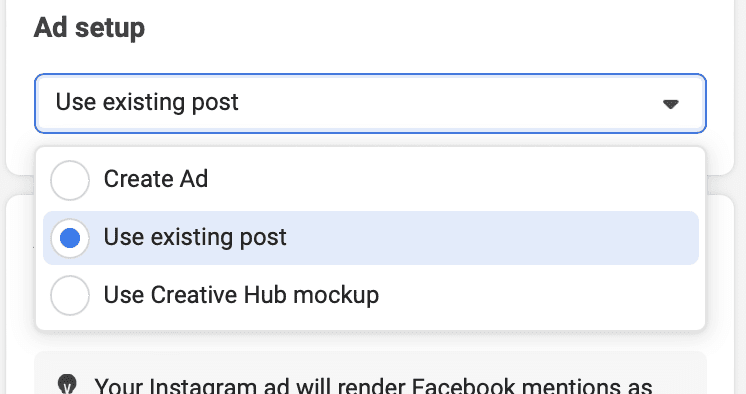 Copy aka your Ad Message
Let your creative juices flow! You will need to create your Headline, Text for the main body of the ad and a short description. Be sure to craft your copy around your ideal client.
Headline:
Clear, Concise & to The Point
Ad Copy:
Text that will make someone click or take the desired action you want them to.
Description:
Short sentence to reaffirm your messaging.
Be sure all parts of your ads keep these 3 key pieces in mind.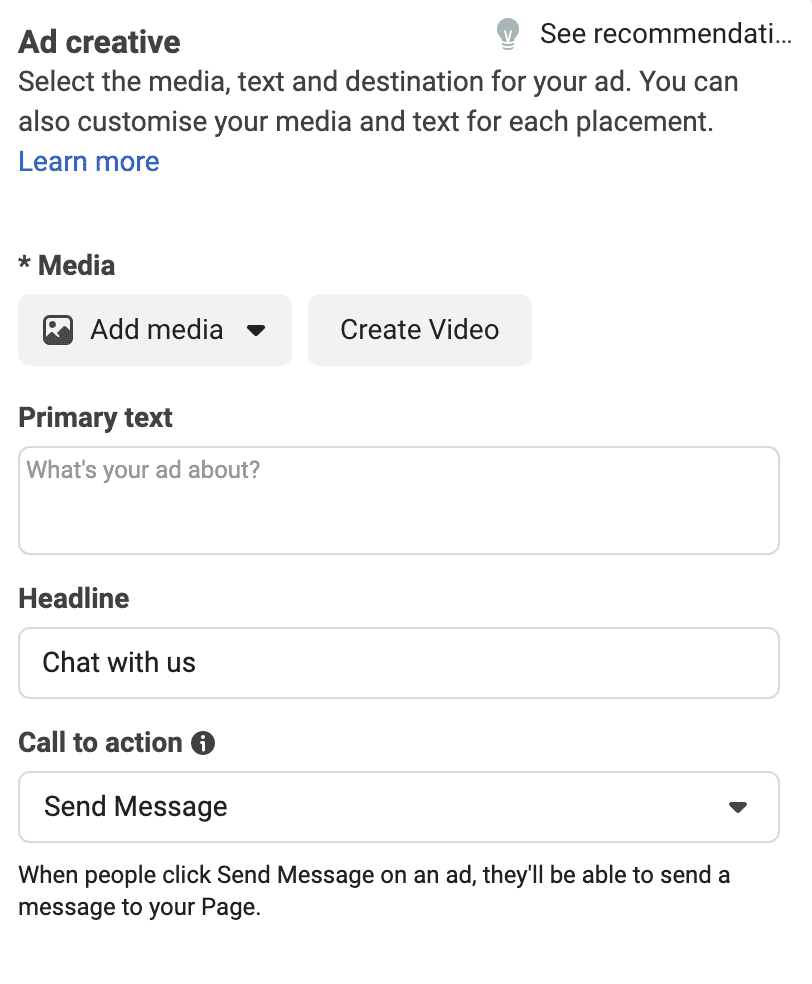 IMPORTANT:
NO Before & Afters – Weight loss Transformations.
NO Calling Out Personal Attributes – Want to get rid of the excess fat on your tummy?
NO Overuse of the word YOU! – Are you sick and tired of not fitting into your clothes?
Be sure to make yourself familiar with the ads policy here.
Call to Action:
What is the purpose of the ad? Be sure to state it and not assume people will know what to do.
How will you do this? Include your call to action in the body of your copy & headline. You will reinforce this call to action (CTA) as part of your button. The simplest option that has proven to work is 'learn more' or 'get offer' in our example above for the Hydrafacial promotion.
Where are we sending them?
Are we sending them to a sales page, or offer page, or do we simply want them to comment on your post? Enter your link in the destination URL, if appropriate.
Media:
Now it's time to put the sugar on top and add the images & videos for your campaign. Both images and videos will need to be sized for their individual placements. Using individual sizing will ensure that each placement will perform the best possible.
Video & Image Sizes:
Landscape (Feed, Audience Network, Messenger) 16:9
Square (Feed) 1:1
Vertical/Portrait (Stories) 9:16
Tall/Portrait (Feed) 4:5 – this is the most valuable feed post as it takes up the most possible space for a paid promotion.
Facebook has a native tool that will allow you to crop the media you have uploaded if creating multiple sizes is not an option.
Let the media do the work for you and capture the attention. They will stop due to the media before they read your text so this is the single most important aspect of your campaign. People will resonate with the visual, then read the text, and then decide if they will take action.
UTMs
This is for the data junkies, ensure you use UTM tracking links so you can analyze the data in Google Analytics to see what performs best. Facebook has a built-in UTM parameter generator.
Pixel
Right before you hit 'publish', ensure your pixel is highlighted and selected so you can measure the performance of your campaign.
Congratulations, you did it! Your ad is in review and fingers crossed will be reviewed and approved and will start appearing online.
Ad Checklist & Considerations
Copy for the Main Body of your Ad

Headline Copy

Description Copy

Call To Action Text

Graphics

Videos

UTMs

Ensure Your Pixel is Selected

View a preview of your ad in the feed
By following the above steps, you can set up your Facebook and Instagram ads in a way that will help you attract more leads and grow your medical aesthetic practice. Keep in mind that it takes some trial and error to find the right mix of images, copy, and targeting, so don't be afraid to experiment. And if you need help along the way, we're here for you. Our team of experts can assist you with everything from setting up your ad account to creating high-converting ads. Contact us today to get started.
Want Better Performance…?
Testing is KEY
Keep your test simple. Only change one aspect of the campaign at a time. Ad Copy A, Headline A – Test Different Media. Media is one of the strongest performers in a campaign so this is where I would start. A variety of media is best to test against the same copy & headline. Your testing period should be at least 5 days so you can gather good intelligence on the campaign and truly know what's working and what isn't.
Housekeeping
New to Facebook Ads? Steal my mini training series that will show you step-by-step how to set up your business manager. Access here!